Designed to the detail: Strong and durable / Tested to 17 kg Load / Good Grip / Multipurpose
Regular price
Sale price
$9.00
Unit price
per
Sale
Sold out
Pre-Sale: Secure your spot (3-4 weeks delivery)
View full details
Rope Hooks love to keep everything in order. Hang your belongings anywhere you want, anytime you want. In the entryway. Closet. Kitchen. Everywhere. Keep one with you to hang your purse at the restaurant. Place a couple in the bathroom to hang your towels. Always have one in the car to hang your sunglasses. Or your groceries in the back seats. Or that wet bathing suit to dry on the drive home after a day at the beach. Hang your scarf and hat, your pot and oven glove, your belt or your guest's jacket. You can even take one with you to hold on to on the bus - those babies hold a lot of weight!



TIP: Order twice the amount, once you get started, you can't stop. You'll get...hooked.
Oh so Versatile

We originally designed them as clothes hooks, but they turned out to be way more multi-talented...

Oh so Sturdy

We have tested them in all ways imaginable, long story short, they can lift up to 17Kg - that is 2x the amount of hand-luggage you can take on an airplane!

Oh so Resistant

If you wish to use them in the bathroom or garden, we still got you! Thanks to their material they are water and stain resistant.

Socially Made in Germany

Local production makes us fast and agile. Short transport routes and the use of recyclable materials minimize the environmental impact.
Collapsible content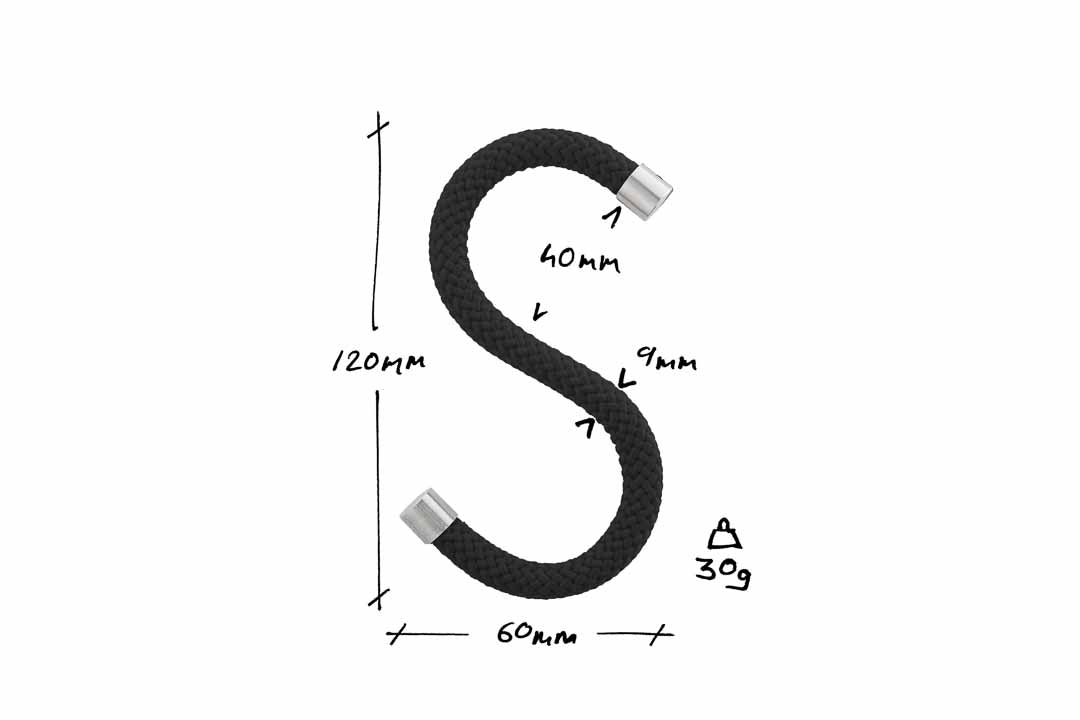 Details

Designer:
Dimensions: | 
Material:
Origin: Made in Germany
Q&A: Any questions you may have

Do the Rope Hooks stain?
In short: no! The hooks are made of polypropylene rope and will not stain, even if they get wet. Even weather conditions have no influence on this type of rope. So your Rope Hooks and whatever you hang on them are safe outdoors too.

Are they water resistant?
Yes. The caps made of aluminium do not corrode. Polypropylene does not absorb water and does not shrink. The steel core could deposit rust if the hook is placed in water for a long time, but this does not affect its appearance or strength.

Do the Rope Hooks bend?
Not during normal use. If the load is 17 kilos or less, you have nothing to worry about.

How durable is the rope?
The Rope Hooks are made of polypropylene, a material that is tear-resistant and abrasion-proof. PP rope is very durable under heavy use and shows no fibre or colour abrasion, even under heavy friction. Therefore your Rope Hooks are durable and very hard wearing.

Is it possible to order a mixed set of 5 Rope Hooks in different colours?
Unfortunately this is not possible at the moment! Sadly this would get too complicated in our warehouse.

What kind of items can the Rope Hooks carry?
The Rope Hooks can safely hold clothes, such as jackets, coats, cardigans, scarves, dresses, as well as towels, sponges, purses, bags, keys, hats, umbrellas, cables, lamps, belts, sunglasses, jewellery, plants and any other everyday item you can think of. We'll leave the rest to your imagination.

How large is the opening of the hook?
The opening is 40mm so it will just about fit over a 4cm diameter round rod, or a 3.5x3.5cm profile if the bar is rectangular.
"I hang what I must not forget on the front door with my S-hooks"

"High quality and beautiful. I think they're great and I have to be careful they don't get feet. :-)"

"Our gear is heavy, so these hooks need to carry quite the load - they do not dissapoint."

Fire Brigade Treuchtlingen
★★★★★
Inspired by a Passion

Our creator, Roman Luyken grew up sailing competitively. His experience in modifying his sheets (ropes) for his boat has inspired him to do the same for your home.

Socially Made, in Germany

A social workshop near Stuttgart, Germany makes all our rope products by hand. The experience has been incredible, high quality, no stress and simply put, a lot of fun.

We are the Pepper Troopers

You may have seen our names answering your emails. Roman loves designing products, Evgenia loves writing stories, and Fotini loves always keeping us on track. And we all enjoy our Tuesday morning team call!