"hangers are a guest's best friend"
Imagine your guest has found the perfect destination, booked a room at their dream hotel (that's your hotel of course), and finally the big moment has arrived! They walk into the room and everything seems great. The coconut mattress. The breathtaking view. Even the bath soap is wisely chosen. Convinced that they made the right choice, it's time to "settle down" and organize their stuff. They open the closet.. but, wait a minute, what happened to the hangers?
Anti-Theft

Our hotel hangers are equipped with a noose that permanently attaches to its rail and prevents your hangers from 'escaping' the wardrobe.

Noise Free

... non slip, and simply functional, yes, we have thought of just about anything a 'perfect' hanger has to be.

Social Production

These hangers are hand-made in a social workshop to promote equal opportunities.

learn more

Made in Germany

Local production makes us fast and agile. Short transport routes and the use of recyclable materials minimize the environmental impact.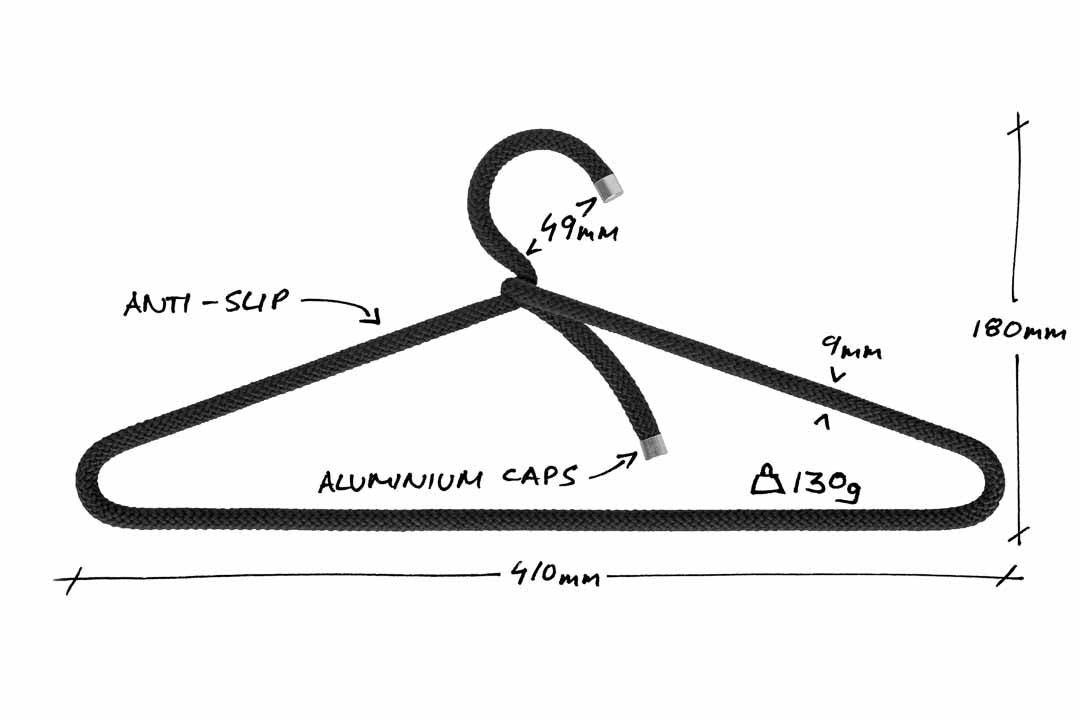 Be it in a vibrant metropolis or a tiny island, the truth is that every guest deserves to spend his holiday in a space with well-considered details. Like our designer clothes hangers. Available in either the specially customized for hotels anti-theft version or in a regular one. Thanks to their textile cover, they are noiseless and won't scratch your wardrobe's hanger bar. Plus, they have a wide surface and a good grip, so that the clothes won't slip.
Need a more 'custom' solution?
Give your guests' clothes the short-term home they deserve, contact us now and we'll be happy to get to know you and your specific needs better. If you're interested in custom color options, feel free to ask for what you need.
Collapsible content
Q&A: Any questions you may have

Don't the hangers get dirty quickly, since they are made of rope?

The material of our Rope Hangers (PP rope) is sweat and dirt repellent. In any case, you can easily clean them with a damp cloth.

Do the hangers bend? How much weight can they hold?

Not during normal use, they have a very strong steel core. They can take up to 10 kg.

Can I brand the Hangers with my Hotels Logo?

Yes, you can. There will be an extra charge for that, but contact us and we can always discuss it on an individual basis.

Can I also get the normal version without the anti theft design?

Of course. You can get either the anti theft version or the standard hangers version. If you want to order the standard version without the anti theft design, please contact us to inform you about the quantity discounts for hotels.

Can I get a completely custom color?

If you want to order a custom color other than the standard 7 colors you see on the site, please contact us.

Is further customization possible?

Contact us and we will discuss it on an individual basis. We'll be happy to get to know your specific needs better!
Lead Time

- Our Standard Hangers (no anti-theft): Immediate shipping up to +-100 Hangers
- Hotel hangers in Standard Colors (anti-theft design in one of the 7 site colors): 4-6 weeks
- Please don't hesitate to contact us if this is urgent and we will do our best!
- Custom Color: 12 weeks (Minimum Order Quantity: 800 hangers)
Returns

We do not accept returns of Hotel hangers unless they have a defect caused by us. Hotel hangers are custom-made and sold on a B2B basis.
Hangers for your Project?

If you are a concept store, retailer, fashion boutique, hotel, or any other type of business, say hi, we love to explore new partnerships!

Peppermint B2B